The Monologues Launch Party
Join us Friday, May 22nd @ 5:00 PM for the first ever zine launch of The Monologues!!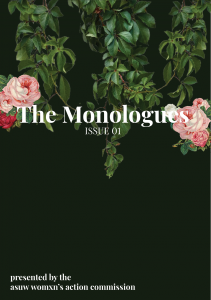 To view and flip through The Monologues, please visit https://fliphtml5.com/yioum/grjy
In order to view the zine in the best way, click the fullscreen/expand icon in the bottom right corner!!
Register for the event HERE. We can't wait to see you there!
About the Womxn's Action Commission
The ASUW Womxn's Action Commission (WAC) is one of eight diversity commissions founded by the Associated Students of the University of Washington. Each commission has a mandate to put on educational programs each quarter, as well as serve and advocate for its constituency within the student government and the administration. The WAC seeks a social justice framework that recognizes and affirms the multiple and intersecting identities held by womxn-identified and/or female-assigned-at-birth constituents.
---
The values of the Womxn's Action Commission include…
gender-based empowerment and advocacy
educating others about the oppressions faced by womxn-identified and/or female-assigned-at-birth people
emphasizing the intersectionality of "womxn"
dissecting the complexities of gender identity, gender expression, and sex identity
promoting accessible and safe spaces for a range of womxn-identified and/or female-assigned-at-birth students
striving for socio-economic justice for womxn-identified and/or female-assigned-at-birth members of all communities
recognizing and addressing power & privilege differentials between/among womxn-identified and/or female-assigned-at-birth communities as a way to pursue processes of allyship
---
We seek to carry out our values through…
Programming
Planning small and large-scale events aimed at a wide range of womxn-identified and/or female-assigned-at-birth students and uphold an intersectional anti-oppression framework
Focusing on collaboration with other commissions, campus entities, registered student organizations (RSOs), and off-campus communities
Advocacy
Pursuing senate resolutions that advocate for the concerns of womxn-identified and/or female-assigned-at-birth students
Participating in local, national or international activism efforts that affect womxn-identified and/or female-assigned-at-birth communities
Resources
Maintaining a WAC office that offers resources and information, particularly regarding issues of sexual and/or relationship health & well-being
Providing resources/referrals accessible for womxn-identified and/or female-assigned-at-birth students with a range of backgrounds, orientations, minds, and bodies
Community Building
Establishing WAC meetings as affirming spaces of liberation, accountability, and interpersonal connections
Communicating with constituent RSOs, as well as outreaching to other identity-based and social justice communities
Education
Creating intentional learning spaces for students to explore topics including feminism, anti-oppression frameworks, power & privilege and social justice.
Updating the WAC's social media accounts with journalism and blogs from critical feminist perspectives
---