ASUW Women's Action Commission presents The _______ Monologues as an annual event that showcases powerful personal narratives of individuals on the UW campus.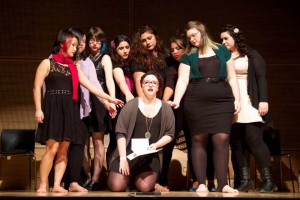 The __________ Monologues previously known as The Vagina Monologues
The __________ Monologues is an entirely student written and organized production featuring UW students. Cast members will share personal stories of survival, identity and resistance through a range of performances. As a challenge to the widely-known Vagina Monologues, The ___________ Monologues asserts that people can tell their own stories in their own voices. It is always a powerful evening of truth telling.
The ________ Monologues was previously known as The Vagina Monologues (changed in 2012).  The UW Vagina Monologues had been a powerful experience for many cast members and audiences in creating a space for stories to be shared and heard. While the monologues have historically done some work in shaking fundamental notions of "woman", feminist, anti-racist, and queer critiques have challenged the monologues' presentation of stories, diversity of voices, and handling of identity representations.
In an effort to use these critiques productively and open up space for narratives stretch the production to a new potential, WAC decided to switch the script in 2012– and this is why The Vagina Monologues was changed to The ______ Monologues.
Current productions hope to center the experiences of women, trans*, gender non-conforming and genderqueer folks. Students of all races, classes, sexual orientations, minds, bodies, ages and religions are encouraged to perform. Monologues are written on any topic that we believe should be part of the conversation that the Monologues is intended to spark. Topics encouraged include gender identity, race, ethnicity, sexual orientation, religion, bodies, minds, activism, relationships, families. Individuals write truths that need be shared to discuss and deconstruct the identity of "woman".